Why did we create autoinvest?
When we started with 3CF we wanted to offer our customers a simple and transparent experience. We saw that other institutions were not doing this: long processing times, hidden fees, a lack of automation were and unfortunately remain the norm.
Why should you use autoinvest?
Autoinvest is a function that allows investors on the 3CF platform to set their investment parameters based on the amount they wish to invest, the credit rating of their investment and duration of the loan. Using the autoinvest function is a great way for you to save time and be able to invest in the newest loans first while still maintaining control of your investments. At present, this is available for investment in personal loans and crowdfactoring and only to registered investors.
Setting up your autoinvest is simple:
1. Log in to your dashboard
2. Click the Autoinvest button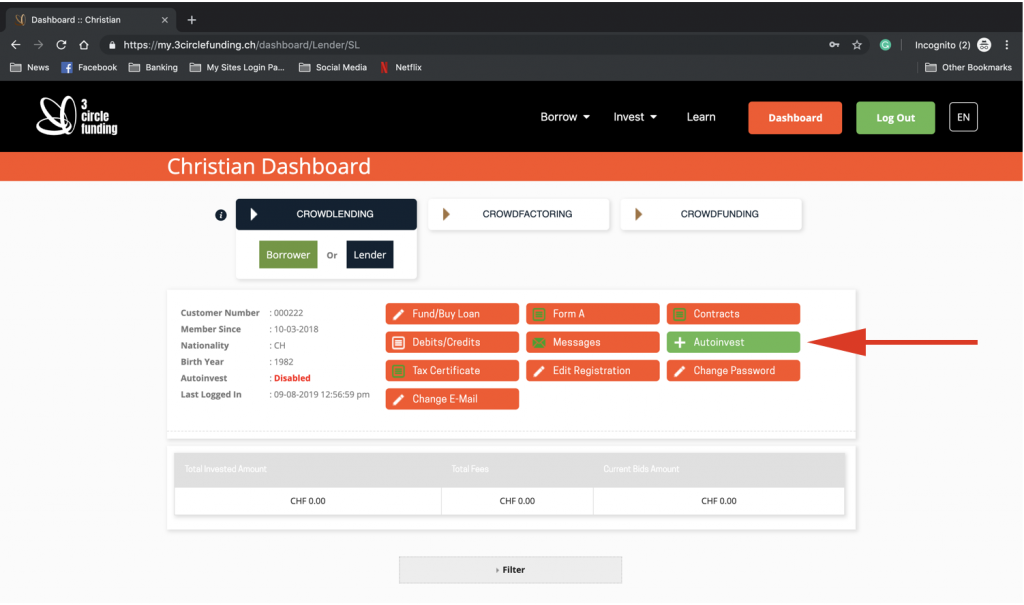 3. Set your parameters
Let's look at all of the parameters one-by-one.
Select the Autoinvest Rating on the top tab: This means that you'll be investing only in people with that given credit rating. Our credit ratings are based on those from three independent agencies: CRIF, Bisnode, Credit Reform. You can read about them in detail here.
My interest rate: This is where you set the range of offered interest rates that you would like to invest in. On average, the rates offered by our users have been between 6% and 10%.
Loan Duration: You need to select the shortest and longest investment horizon you would like to invest in. Most of our loans tend to be between 24 and 48 months. Please note that the duration is in months.
Exclude Loans Already Invested in: By clicking "Yes", you will only invest in a loan once, if you click "No", the autoinvest may invest in a loan more than once. Investing in a loan more than once may be desirable to close it out and start earning interest faster.
Maximum number of loans: Here you can say how many loans that you would like to invest in while you have your autoinvest active.
Bid Amount: This is where you can set the range for the amount of money you would like to invest. The minimum bid on our platform is now CHF 1000.
Valid from & Valid until/on: Autoinvest has a time limit that you establish. You can choose the start and end date here.
Conclusion
Autoinvest allows you to invest in great loans and people in your community without needing to visit the 3CF platform on a daily basis. Furthermore, using autoinvest will help close out loans faster, meaning that your money starts working for you faster, too. Several loans are very close to being fully financed and we have new borrowers that are looking for financing, setting up your autoinvest can help close out these loans faster.